RESILIENT CHATHAM COUNTY
Chatham County formally established a new Resilience Program in 2022. This program will be working throughout all of the County's departments to reduce the vulnerability of our facilities and its residents to climate change and build greater resilience against the risks to our government and the public.
Chatham County is committed to starting down a path to ensure that we can move forward and evolve with our ever-changing conditions. By focusing on strategic planning, wise investment, and adaptations now, we can make proactive changes to maximize our preparedness and overall resilience while the impacts of climate change and sea level rise are still minimal. Efforts to be proactive rather than reactive in the face of these changes will exponentially benefit the County and its residents by minimizing the resources necessary to prepare, preserving our unique quality of life long into the future.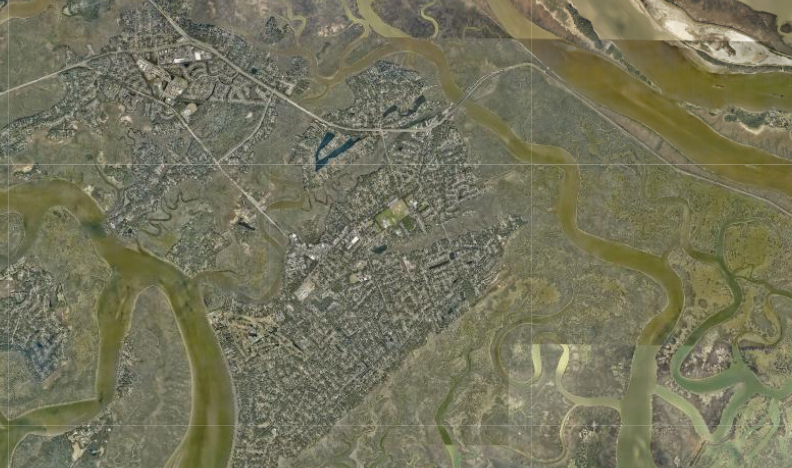 Introduction
In recent years, we have witnessed extreme weather events across the country and the world. These extreme events, such as "500‐year floods" or rapidly intensifying hurricanes, have become more frequent due to climate change. These impacts of climate change have been felt across the world, and Chatham County is not immune.
The impacts of climate change and sea level rise are also witnessed locally. Fifteen named storms have come within 50 miles of Chatham County since 2000. Several heavy rain events affected the community, such as the 6.7 inches of rain that fell on September 20, 2021, breaking the record of 2.1 inches that stood since 1885. Some areas of the County received over 8.0 inches of rainfall during Tropical Storm Elsa in July of 2021. With a warming climate, Chatham County is likely to experience more intense and frequent rainfall events due to increased moisture in the atmosphere.
The Fort Pulaski tide gauge located in Chatham County has recorded nearly a foot of sea level rise since 1935. Impacts are frequently witnessed throughout the County. In light of experienced impacts in addition to the projected forecasting, Chatham County is looking to establish next steps and recommendations for the path forward.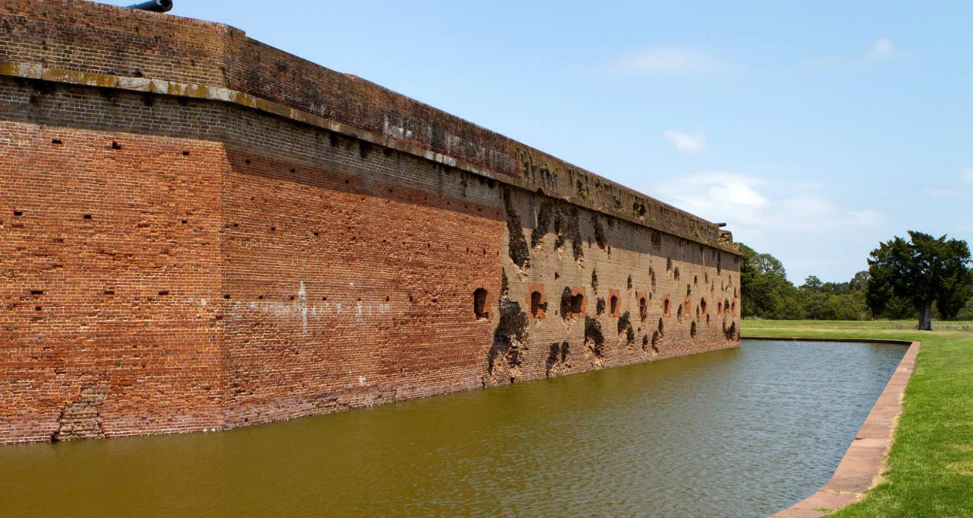 What is "Community Resilience"?
Community Resilience is the ability of a community to withstand and respond to shocks and stressors, to reestablish when necessary, and to equitably improve when possible. In short – the ability to bounce back.
Examining resilience through the lens of a whole community approach can be very complex. Following the lead of other communities around the world, the County is currently looking at resilience through the lens of four main themes established in the Rockefeller Foundation's well-known 100 Resilient Cities initiative:
Infrastructure & Environment
Leadership & Strategy
Health & Wellbeing
Economy & Society
As shown in the Resilience Framework image below, these four resilience themes are not independent of one another, but rather mutually beneficial. For example, positive impacts in the Infrastructure & Environment program area can have cascading benefits that could be seen in other program areas such as Economy & Society. Each one of these themes then have three core components, with supporting subcomponents that the County and its partners will focus on throughout its ongoing efforts to address resilience in Chatham County.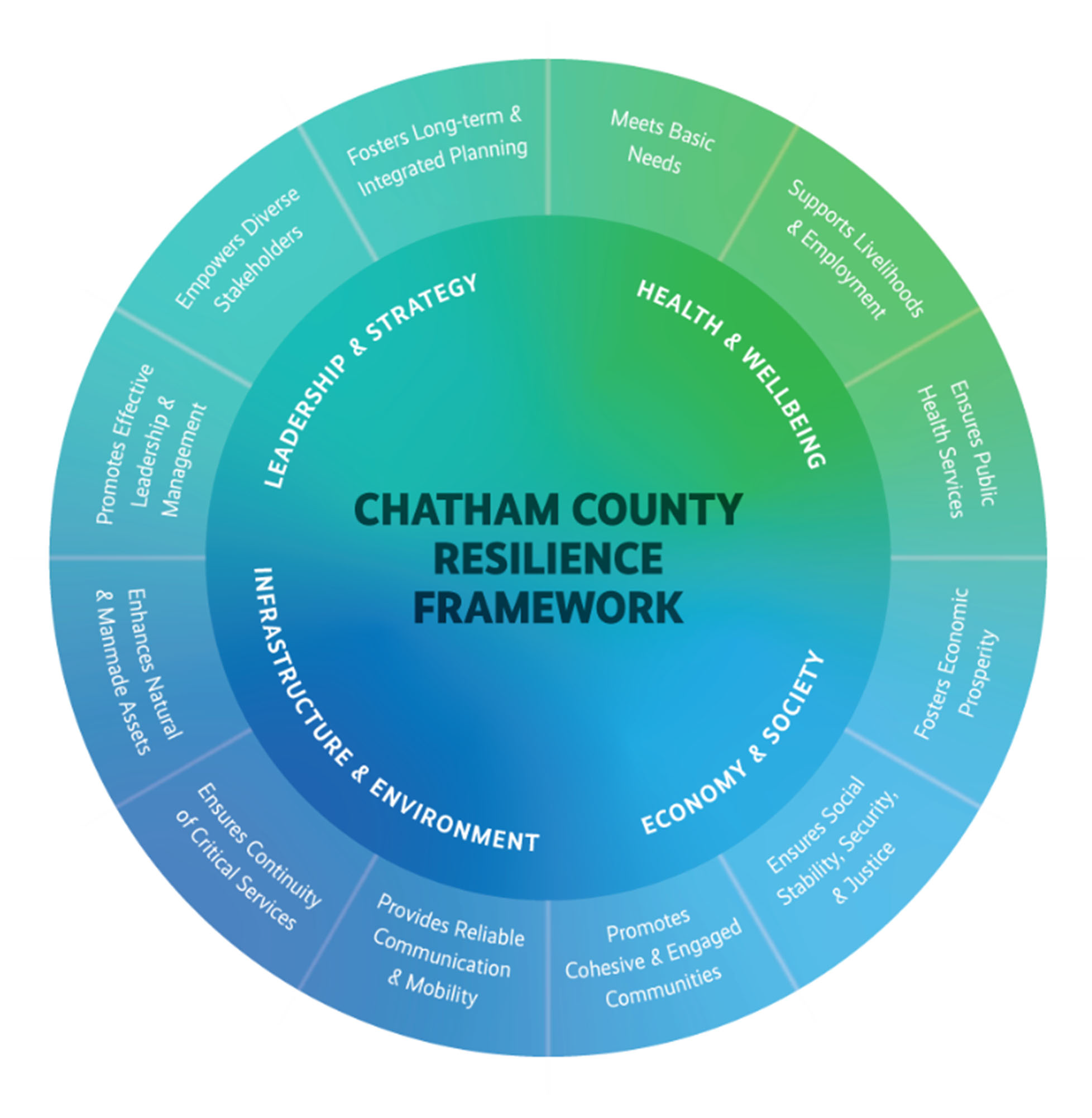 Leadership & Strategy

Promotes Effective Leadership & Management
Empowers Diverse Stakeholders
Fosters Long-term & Integrated Planning

Health & Wellbeing

Meets Basic Needs
Supports Livelihoods & Employment
Ensures Public Health Services

Economy & Society

Fosters Economic Prosperity
Ensures Social Stability, Security & Justice
Promotes Cohesive & Engaged Communities

Infrastructure & Environment

Provides Reliable Communication & Mobility
Ensures Continuity of Critical Services
Enhances Natural & Manmade Assets
Integrating Climate Action
As part of the most recent Plan 2040 Chatham County – Savannah Comprehensive Plan, Chatham County integrated climate change into all of the elements of the formally adopted Comprehensive Plan. Among other actionable items, the Comprehensive Plan includes Goals and Strategies which consider how the community will best adapt to and mitigate for the economic, environmental, and social effects of climate change.
As the Resilience Program and process grows, Chatham County will continue to build resilience at a number of levels, internally for government operations, and countywide through coordination with municipalities.
Faces of Resiliency
Check out the University of Georgia's Marine Extension and Georgia Sea Grant's Faces of Resiliency videos highlighting how communities are increasing their resilience to sea level rise, storm surge, and flooding.
The series, developed by Marine Extension and Georgia Sea Grant, features interviews with coastal residents and researchers who share stories of adapting to coastal hazards through community engagement and collaboration with scientists, nonprofits, or government agencies.
Each video highlights a different example of how communities are increasing resilience, including preserving salt marsh habitat, implementing green infrastructure, restoring dunes, engaging in environmental justice and community planning, and improving science communication.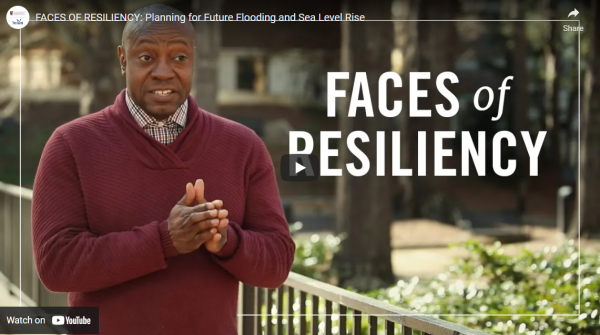 SMART SEA LEVEL SENSORS IN CHATHAM COUNTY
The Smart Sea Level Sensors Project aims to install a network of internet-enabled water level sensors across flood-vulnerable Chatham County, via a working partnership between Chatham County and the City of Savannah, together with a diverse team of scientists and engineers from Georgia Tech.

The sea level sensor network will stretch from Interstate 95 to Tybee Island, capturing a wide range of information and data. The data collection will be complemented by a suite of modeling tools to inform flood risk and vulnerability. Taken together, the framework enables the assessment of short-and long-term coastal flooding risk and vulnerability required to inform planning for flood mitigation strategies and response. The real-time data on coastal flooding can be accessed on the Sea Level Sensor website.
This is the first project of its kind in the region, and the goal is to provide a template for expansions of this technology and community stakeholder framework to other areas of vulnerable coastline along the southeastern US.
---
Program Contact
Jackie L. Jackson
Chatham County
Resiliency Program Administrator
124 Bull Street, Suite 227
Savannah, GA 31401
(912) 652-7896
jacjackson@chathamcounty.org